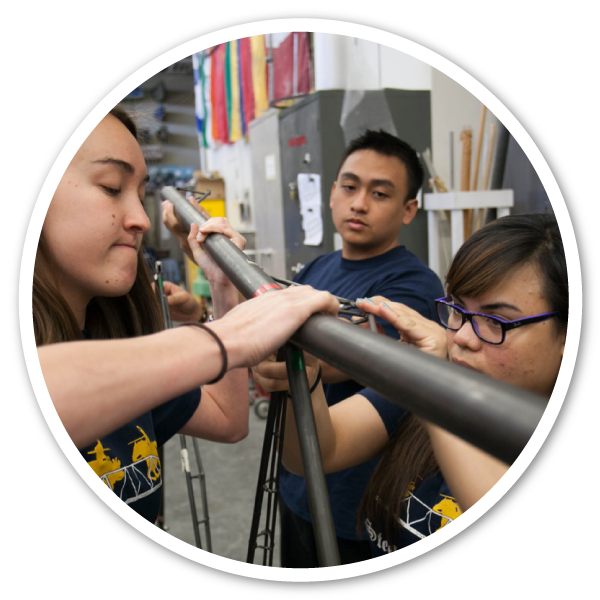 ACEC California Scholarships
Every year ACEC California's Scholarship Foundation awards scholarships ranging from $1,000 to $7,500 each to deserving college students working toward a degree in engineering or land surveying. The top award recipient is nominated to apply for the ACEC national scholarship competition.
Scholarship application packets are mailed to college Engineering Departments throughout California and posted here on our website each fall.
The scholarship application is a pdf that you download to your computer to print and fill out. Make sure to have it signed by a professor or dean, and then email or mail it to ACEC California. It is not an online application that may be submitted to us directly from our website.
ACEC California Scholarship Application Link:
The ACEC California Scholarship Foundation will be awarding up to $50,000 in scholarships for qualified engineering and land surveying students throughout California. Highest upper division undergraduate award of $8,000 and highest graduate award of $8,000. Some applicants from Riverside/San Bernardino, Orange County, Los Angeles and San Diego regions may be eligible for up to $50,000 in additional awards from local ACEC California Chapters based on their school location,  residency and hometown.
Click on the link below to access all materials related to their 2021-2022 Scholarship process, including Eligibility, Scoring Guidelines, Application, Checklist, and Recommendation Form.
ACEC San Diego Chapter/City of San Diego Engineering & Capital Projects Scholarships
Most years the San Diego Chapter of ACEC California partners with the City of San Diego Engineering and Capital Projects Department to sponsor scholarships to benefit local engineering students at the high school and college levels. Committed to creating opportunities for students who have demonstrated a high level of interest and commitment to the engineering profession, the ACEC California San Diego Chapter and the City of San Diego Engineering and Capital Projects Department sponsors a Golf Tournament in the spring as a fundraising activity to provide ongoing financial assistance to help noteworthy engineering students succeed in San Diego.
Register Early for the 20th Annual Engineering Scholarship
Golf Tournament at Riverwalk Golf Club
DATE: Thursday, November 18, 2021 (Deadline to register 10/25/21.)
10% discount for registration prior to 10/18/21.
LOCATION: Riverwalk Golf Club, 1150 Fashion Valley Road, San Diego, CA 92108 (619.296.4653)
Click here for the event flyer and registration information.
Stay tuned for ECP/ACEC San Diego Engineering Scholarship Application Links
Congratulations to the 2020 Scholarship Award Recipients:
High School
Hamza Aziz – Scripps Ranch H.S. / Mt. Everest Academy
Maria Inés Flores – Academy of Our Lady of Peace
Adrian Ople – Otay Ranch High School
Emma Rens – Academy of Our Lady of Peace
Eliana Rodriguez – Hilltop High School
College
Dominic Huerta – San Diego State University
Ellie Roy – San Diego State University